I don't recall where I got this recipe, but it's definitely a keeper! I've made it several times, substituting different types of nuts and fruit. It's always been delicious. You may be tempted to cut down on the oil, but if it doesn't have enough oil the granola won't get crispy. So, I use the full amount of oil, and just decrease my serving size. Enjoy!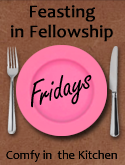 3 cups old-fashioned rolled oats (or a mixture of oats, oat bran, barley or flax seed, if you prefer)
1 cup raw almonds or pecans, roughly chopped
1/2 cup coconut flakes (I use unsweetened)
3/4 cup honey or maple syrup
3/4 to 1 cup olive oil (the light flavor type) or coconut oil
1 cup chopped dried cherries, currants, yellow raisins, or a mix of the three
Tip: Spray your measuring cup with Pam before measuring honey.
It will slide right out!
Preheat oven to 325 degrees F. In a large bowl, mix the oats, nuts, pumpkin seeds, coconut flakes, maple syrup or honey, oil, salt and cinnamon together.
Spread mixture on a rimmed baking sheet in an even layer and bake for 45 minutes, stirring every 10 minutes, until golden brown and well toasted.
Do you know about Silpat Silicone Non stick baking mats?
They're the best thing since... sliced bread!!




Transfer granola to a large bowl and add the dried fruit, tossing to combine. Store in airtight container.
Mmmmmmmm. What was I saying about portion control? Forget about it... go for it. This is g*o*o*d stuff!